The Composite Goat Congress is a National Premier Meat Goat event for the USA.
DOES
| | | | | |
| --- | --- | --- | --- | --- |
| CLASS | OWNER | TAG:ID | WEIGHT | PLACING |
| MILK TOOTH | GATES LIVESTOCK, GATES | 2148 | | 1ST |
| 2 TOOTH | GATES LIVESTOCK, GATES | 2127 | | 1ST |
| 2 TOOTH | GATES LIVESTOCK, GATES | 2131 | | 2ND |
| 2 TOOTH | GATES LIVESTOCK, GATES | 2126 | | 3RD |
| 4 TOOTH | STONE HATCH FARMS, DINSMORE | 0231 | | 1ST |
| 4 TOOTH | GATES LIVESTOCK, GATES | 1924 | | 2ND |
| 8 TOOTH | STONE HATCH FARMS, DINSMORE | 0210 | | 1ST |
COMPOSITE DOES MILK TOOTH THROUGH 8 TOOTH
GRAND CHAMPION COMPOSITE DOE STONE HATCH FARMS, 0231 4 TOOTH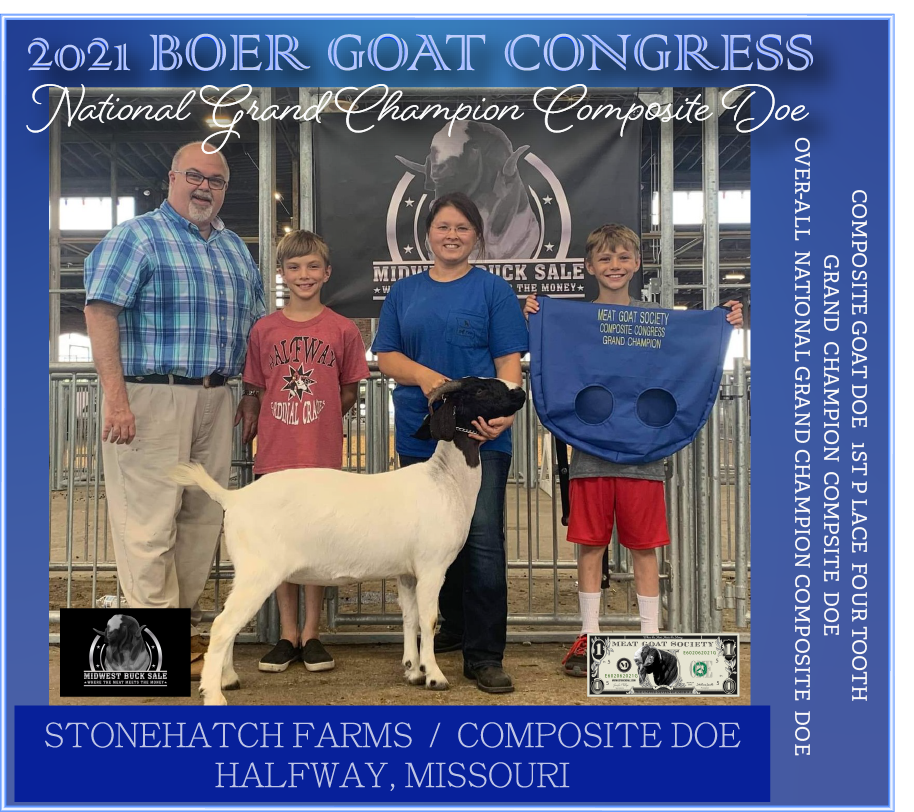 BUCKS
| | | | | |
| --- | --- | --- | --- | --- |
| CLASS | OWNER | TAG:ID | WEIGHT | PLACING |
| MILK TOOTH | GATES LIVESTOCK, GATES | 2119 | 23 | 1ST |
| MILK TOOTH | GATES LIVESTOCK, GATES | 2107 | 23 | 2ND |
COMPOSITE GOAT BUCKS
GRAND CHAMPION COMPOSITE BUCK, GATES LIVESTOCK, GATES, 2119 MILK TOOTH
OVER ALL COMPOSITE GOAT, STONEHATCH FARMS, DINSMORE 0231
SUPREME NATIONAL CHAMPION SET OF THREE YEARLINGS, GATES LIVESTOCK, EVIE GATES
This is about selection of the meat goat based upon meat mass, form and function. Strictly to compare the meat and muscle on the stock presented. Are they ready for the market? Will they produce meat for the market?
The Composite Goat Congress is an opportunity to have your youth & jackpot market goat stock evaluated and compared without the politics of today's show arena. Breeders may enter stock, have them evaluated, and return home to continue your hard work in helping the Boer breed progress.
Stock offered for sale on June 4, 2022 5:00 pm.
If a breeder only wants to have their stock evaluated, that is fine, nothing is required to sell.
Stock entered is $15.00 for the evaluation, per head. Group classes are $15.00 per group. A group class would be a doe with kid or a group of three yearling does.
All may be evaluated and return home.
Enter
The judges will sort the stock according to the breed standards and quality.
Champions will be awarded.
This is an evaluation and assessment of stock while be penned and turned loose in the arena as the judges request them. Handlers will be provided to handle all stock in the arena.
The Composite Goat Congress is all about the Youth Jackpot Composite goat. Bucks, does and kid goats may enter. There will be group classes. Three yearling Does and Doe & Kid(s).
Selection for the Composite stock is based upon meat & muscle mass first. These animals will not look like a Boer Goat. They look like a composite animal and are made of two or more breeds.

Milk tooth entries will be weighed. A 10 pound group range will determine class breaks for milk tooth entries.

If there is any question, the Midwest Buck Sale staff and Superintendents of the Boer Goat Congress will determine what category the stock fits.
All colored Boer goats include any goat that is any color other than white bodied with a "dark" headed. This is only done so the breeder may see the consistent qualities of each animal. It is to help breeders learn. This is a learning event.
Spotted, dappled, paint, splashed, solid white, or grey shades, any other color than white, is going into the colored Boer event.
TRADITIONAL
KALAHARI RED
BLACK
DAPPLED
CHROMA
PAINT
SAVANNA
COMPOSITE (Market Youth Jackpot Stock)
This is an inclusive event, we are willing to work with everyone to accomplish a great learning atmosphere.
Entry Fee: $15.00
Deadline: May 1, 2022
Judges:
MO State Fairgrounds has a wonderful camp grounds. Spots are first come, first served. Set up your camper and the grounds keeper will come and collect the fees for your stay. They do not take reservations.
Hotel reservations should be made as soon as possible. Hotels fill up fast, there are other events going on that week also.
Each exhibitor, attendee, consignor, or vendor will be solely responsible for any consequential loss, injury or damage done to or occasioned by, or arising from any animal or article exhibited or for sale by him, and shall hold harmless Midwest Buck Sale, LLC, against any and all liability in regard thereto. Midwest Buck Sale, LLC will take reasonable care to insure the safety of exhibits and property, but the owner must take the risk of exhibiting. In no case will Midwest Buck Sale, LLC be responsible for any loss, damage or injury to property or persons while on the Missouri State fairgrounds, or at any other time or place, nor be liable or required to make any payment for damage, loss or injury. All that enter any event or sign up for anything related to the Midwest Buck Sale, agree: "I have read the contract and agree to abide by all Midwest Buck Sale rules and regulations as witnessed by entering the events June 1-5, 2022."
MIDWEST BUCK SALE, LLC ALL RIGHTS RESERVED 2018-2021
Total Page Visits: 327 - Today Page Visits: 1