All Boer Goats, divided into colored Congresses, begin June 4, with the traditional Boer Goat. 8:00 am (subject to change).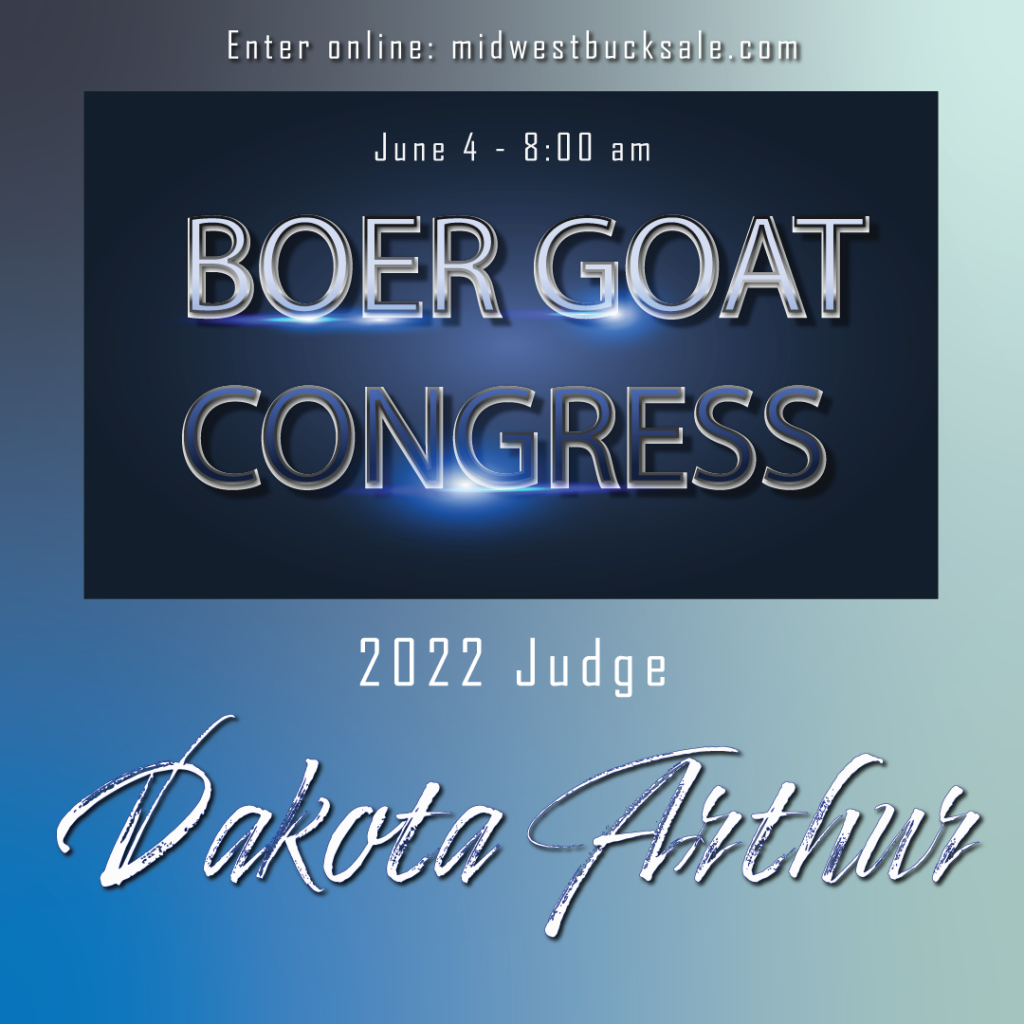 Supreme Over-all Champions in each of these class categories: Buck, Doe, Doe & Kid(s), and 3 Yearling Does. Buckles and Banner awards.
Start by filling in this Customer Information form here: Click Here
Animal Information Form: Click Here
This is a National Competition and a stock evaluation, over-all, as they fit the phenotype of the Boer Goat, divided by color coat and pattern. We will use the term "American Kalahari Red" for the solid red goats. White/Grey Boer Goats will be classified as Savanna.
Dividing stock by color color coat gives the stock an opportunity to be evaluated by like animals. The Boer, Savanna, Kalahari Red, are all animals developed by selection, it is by phenotype. We are thankful that the South African Boer people took the time to developed the stock and our event is the opportunity for those American breeders that want a fair comparison of their stock, where they truly are being compared. Our mission isn't to tell anyone else what to do, but to bring people together that can share their information and help others on their way. If you want to help, join the fun, because that is what it is.
It is a learning opportunity. The point of this is to acknowledge the breeder. We want you to bring your stock. What you use as production stock, and the kids you raise as replacement stock. You will share your lineage of goats. At the same time, we show how everyone can work together to move a phenotype forward, based upon selection. Sharing ideas about management, feeding, and genetics used are part of the event along with so much more.
GROOMING: Grooming is limited to washing, drying, and clipping.
No product, other than simple spray oil on the horns and hooves, is allowed. Fly spray is allowed. No other chemicals are allowed.
No adhesives, baby powder, no external products other than mentioned above on horns and hooves.
We appreciate everyone participation in this rule for the Boer Goat Congress.
CLASSES: Classes are divided by sex and then tooth rule and weight.
MILK TOOTH: All baby teeth are in place. No primaries have erupted.
All entries are weighed. Classes will be grouped and divided, not to exceed a minimum of 10 pounds and a maximum of 20 pounds.
YEARLING: First two permanent teeth will be erupted.
Entries will be weighed and not exceed 50 pounds difference for class.
TWO YEAR OLD: Four permanent adult teeth will be visible, or erupting in the correct order. Does must have kidded by this time or exhibit being in production by carrying at the time of the evaluation. Sonograms are not admissible. Visual inspection and determination by the judge is final.
SENIOR: Six tooth and older. Does must be in productive and show signs of kidding.
Yearling Does: Set of Three Object is to have three yearling does that are consistent and best represent the breed.
One entry fee of $15.00 for the class. Enter online Click Here
Must be penned together through the event.
One entry fee: $15.00 for the sale.
If selling, they will sell three X (times) the money and the 7% commission is charged as it would be on any other entry.
They enter the arena to sell together.
Best Doe & Kid(s) Any age Doe with kid(s) still obviously nursing on the does side. Age limit on age for the kid is 3 months (90 days). Kids will have to be weighed after check in.
All general Boer Goat standards apply. Check the South African Standards for the Boer Goat and The American Boer Goat Association. Please email the Meat Goat Society with any questions: meatgoatsociety@gmail.com
Please join the Facebook group for the Midwest Buck Sale.
Stock are evaluated loose. The judges do not know who owns the stock. Handlers are provided in the arena and breeders watch from the sidelines.
This is a fun and exciting way to have stock evaluated. It is judging, just like any other show, with a twist. You set on the side lines and learn to evaluate the stock by the standard.
National titles and awards for the winners. Come have some fun. We want you to bring the stock you raise.
Stock may arrive WEDNESDAY, MAY 31, after 5:00 pm. When entering, please include a $5.00 pen fee. Stock must be in place Friday noon.
Health papers are required from the state of origin, even if originating from Missouri. USDA will be on premise.
GENERAL RULES: Click Here
HOLD HARMLESS WHEN ENTERING THE MIDWEST BUCK SALE AND EVENTS
Each exhibitor, attendee, consignor, or vendor will be solely responsible for any consequential loss, injury or damage done to or occasioned by, or arising from any animal or article exhibited or for sale by him, and shall hold harmless Midwest Buck Sale, LLC, against any and all liability in regard thereto. Midwest Buck Sale, LLC will take reasonable care to ensure the safety of exhibits and property, but the owner must take the risk of exhibiting. In no case will Midwest Buck Sale, LLC be responsible for any loss, damage or injury to property or persons while on the Missouri State fairgrounds, or at any other time or place, nor be liable or required to make any payment for damage, loss or injury. All that enter any event or sign up for anything related to the Midwest Buck Sale, agree: "I have read the contract and agree to abide by all Midwest Buck Sale rules and regulations as witnessed by entering the events."
Midwest Buck Sale, LLC, All Rights Reserved, 2018-2022
Total Page Visits: 529 - Today Page Visits: 3