Sponsor an Event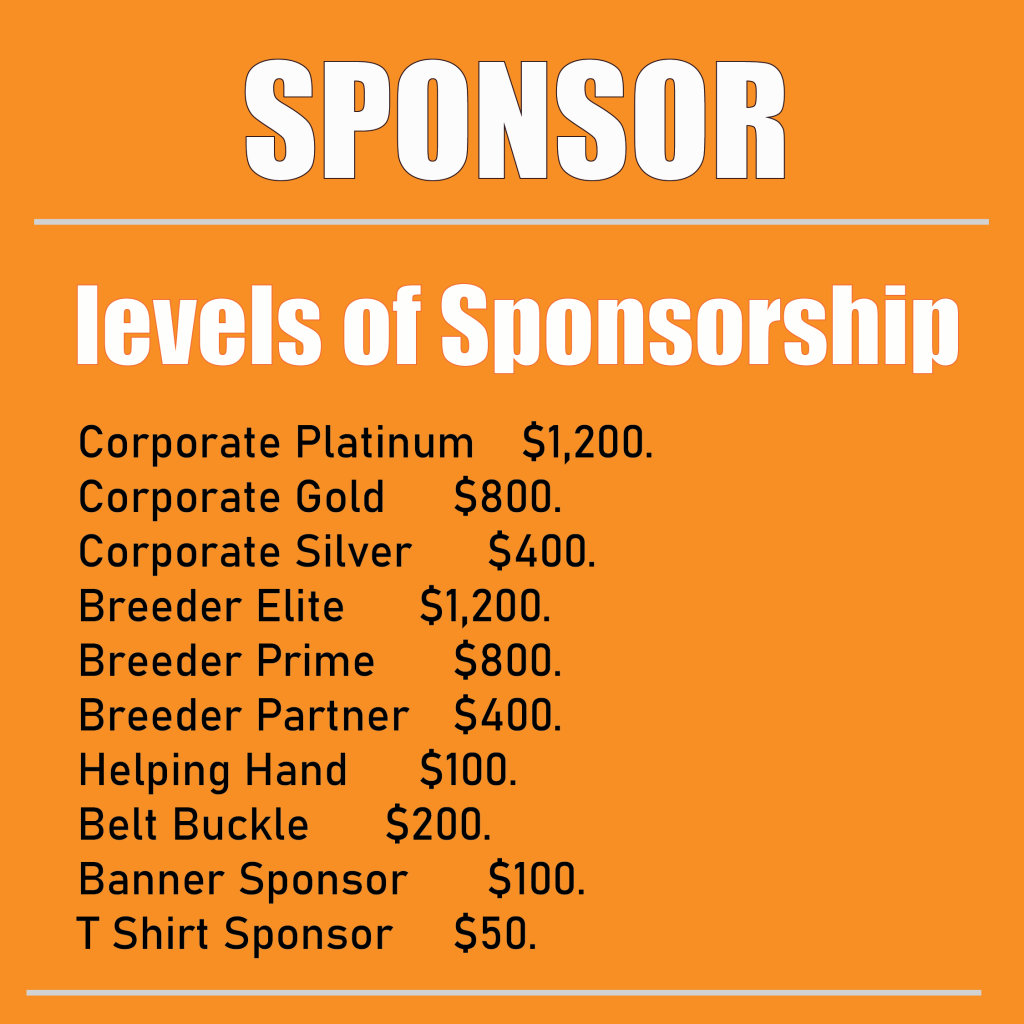 Sponsor packages for both Corporate and Breeders are listed below. Pricing is on the form. CLICK HERE for the three levels of sponsoring.
Please CLICK HERE to fill out the SPONSORSHIP FORM. We also accept installment invoicing for sponsorship.
Sponsorship for the Youth Goat Camps goes directly to pay for the youth awards, t-shirts and 'instruction' note books.
Please use the form first to input all business information. Your logo will show up in the gallery and other places on the website and social media platforms. If you need any assistance, or want to add you logo later, please contact us at midwestbucksale@gmail.com
Please email us if you have any questions: midwestbucksale@gmail.com
Corporate Sponsorship
Platinum $1200
Gold $800
Silver $400
Breeder Sponsorship
Elite $1200.
Prime $800.
Partner $400.
Platinum tier Sponsor: Corporate or Breeder $1200.
Logo will appear on all advertising elements across the entire event.
Includes a 10'X10′ vendor space.
Gold tier Sponsor: Corporate or Breeder $800.
Silver tier Sponsor: Corporate or Breeder $400.
Other Sponsorship opportunities available:
Belt Buckles: $100:
Champion Banner: $100:
The Midwest Buck Sale is an LLC, your payments may be deductible as a business expense. Check with your accountant for more detailed information. Your support helps ALL of the events take place.
HOLD HARMLESS WHEN ENTERING THE MIDWEST BUCK SALE AND GOAT EXPO EVENTS.
Each exhibitor, attendee, consignor, or vendor will be solely responsible for any consequential loss, injury or damage done to or occasioned by, or arising from any animal or article exhibited or for sale by him, and shall hold harmless Midwest Buck Sale, LLC, against any and all liability in regard thereto. Midwest Buck Sale, LLC will take reasonable care to insure the safety of exhibits and property, but the owner must take the risk of exhibiting. In no case will Midwest Buck Sale, LLC be responsible for any loss, damage or injury to property or persons while on the Missouri State fairgrounds, or at any other time or place, nor be liable or required to make any payment for damage, loss or injury. All that enter any event or sign up for anything related to the Midwest Buck Sale, agree: "I have read the contract and agree to abide by all Midwest Buck Sale rules and regulations as witnessed by entering the events May 31 – June 3, 2023.
Midwest Buck Sale, LLC All rights Reserved 2018-2023
Total Page Visits: 2376 - Today Page Visits: 1