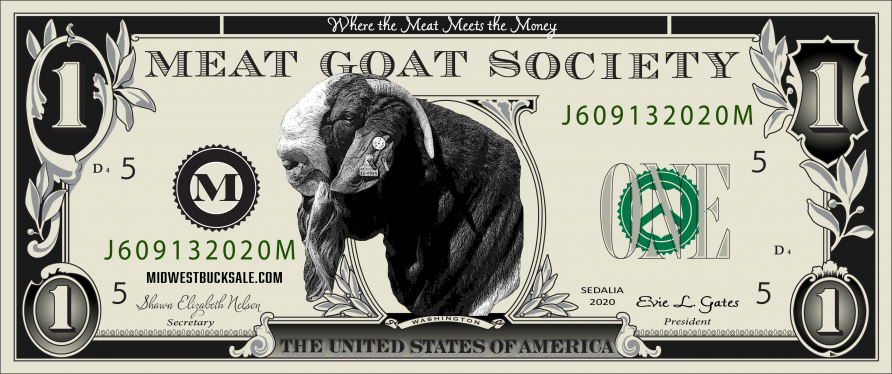 Join the Meat Goat Society!
Joining is easy. First question is why?
The answer to why join the Meat Goat Society, is easy. You raise goats. You raise meat goats. You'd like to be connected and learn more bout raising meat goats from professionals in the meat goat industry, learn what works in your area of the world and make a model after that to be profitable in your own enterprise.
The Meat Goat Society provides two things. One is the community base for all meat goat breeders to come together and share information and ideas. That opportunity is scheduled annually, in Sedalia, MO at the state fairgrounds. The second is the opportunity to keep a data base record of a breeders stock without having to pay for every registration paper or link throughout their herd. That is correct, you input the data and print your birth certificates.
The Meat Goat Society welcomes all goat producers. The Meat Goat Society can add any breed to the data base at any time. Breeders keep track of their information through the data base and changes may be made through an email request, after the initial information is entered by the breeder. All changes are recorded in the data base and are easily viewed by the breeder and anyone else. We like honesty and transparency in records.
There are no points to earn, only a status after being inspected for 'Stud'. Stud qualified stock ranges from 1-5 in level. Top quality stock will be sought after by those looking to obtain that Studded look about the Boer goat and produce a consistent herd.
While the Meat Goat Society focuses on the Boer Goat, we invite all aspects of the meat goat industry to utilize the data base. Breeders keep their own records through submitting information via forms. Information is stored in the data base by Herd Book and Membership. Members access the data base through password protected pages within the website.
All breed "colors" are included in the data base. The reason it is separated is so that if an breeder is focused on breeding for a certain color, they may search by that color selected and pull up the criteria being sought. A breeder doesn't have to wonder if it is a red goat, a black goat, or a dappled paint goat. Not only does a breeder see what other breeders breed by color, but in addition, every animal will have a photo attached to their record. Click on a breeders name and a member can see their stock by color. Data bases are a wonderful tool.
The next step after building a breeder herd in the data base is to have the stock inspected by a properly trained Meat Goat Society judge or inspector. Our future Meat Goat Society Judges are trained at the annual Boer Goat Course given during the Midwest Buck Sale, each year. This course is taught by international senior and level three or higher judges from round the world. The Meat Goat Society felt that it was important to properly train the inspectors and judges within the Society. Anyone may enter and take the course and exam.
Once stock in the data base reaches the appropriate age, they may be inspected. Breeder Members must have a Herd Book number in the Meat Goat Society data base. If the animal is classified as 'Stud", the animal is given a permanent registration number and a certificate is sealed and awarded from the Meat Goat Society.
This is not a replacement for your current registry, this is a data base to house your records, that is printable. It is an opportunity for breeders to form a community of Boer goat stock that follows the Boer goat standard as it is around the world. Sharing information, ideas, building a community of like minded people, and preserving a breed is a good thing.
If there are any questions, please feel free to email: meatgoatsociety@gmail.com
Total Page Visits: 2547 - Today Page Visits: 1