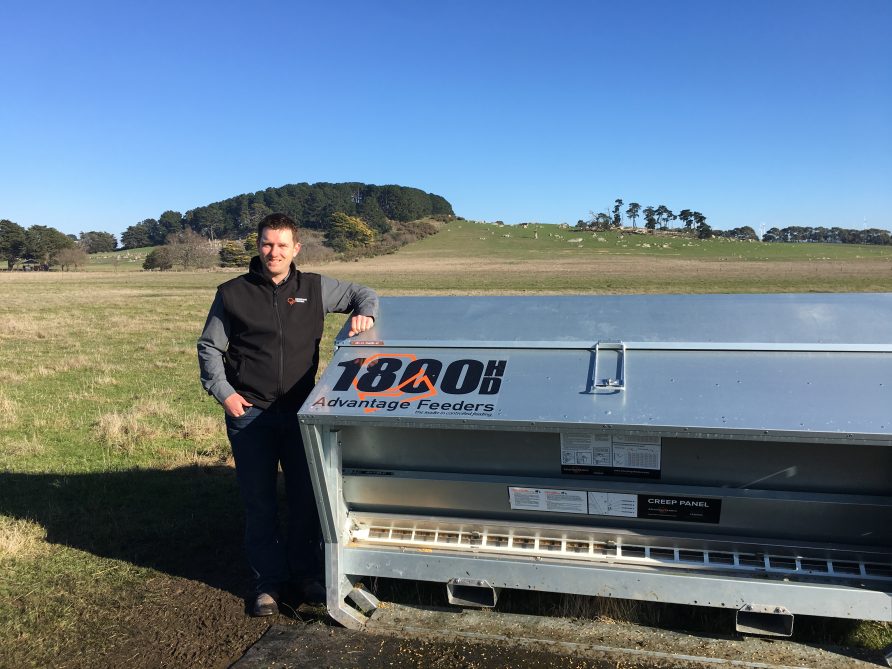 By Ebony Ebenwaldner
The Advantage Feeder way
Taking every advantage to feed little and often! The Advantage Feeders story began in 2005 with an on-farm experience stirring a curiosity within Founder, Gerard Roney, that lead to the development of the revolutionary, 3-way adjustment system unique to Advantage Feeders. Gerard bought 700 ewes back in 2005, while still studying at university and found that the feeders he bought to ration feed to them could not offer a low enough allocation.
Gerard wanted to feed 250g/head/ day, but the feeders only offered one adjusting slide. The lowest consistent ration he was able to feed was 600g/ head/day. This inability to feed a low ration meant that Gerard was finding the cost of feed was excessive, he was inconvenienced by having to fill the feeders mid-week (when he was in the city at university), and there was the constant threat of the feeders not being used because they were empty. "I thought there must be a better way," Gerard says. "I spent six months making and testing prototypes featuring what eventually became our signature, the 3-way Advanced Adjustment System," he said.
Gerard's initial goal was to develop a system within grain feeders that would limit the sheep to accessing only what they could touch with their tongue at any one time. Early trials indicated that sheep were leaving the feeder, set at a low ration, after about five minutes of feeding. Rather than simply assuming that this was due to dissatisfaction or difficulty, Gerard set up a video camera to capture exactly what was happening at the feeder. The footage showed that sheep could only eat from the restricted settings when they had saliva on their tongue. Once the saliva had dried out, sheep had to wait for it to build back up again before revisiting the feeder. "I immediately knew I was on to something good," Gerard said. Gerard consequently launched Advantage Feeders in 2006.
Since its inception, Advantage Feeders has been solely focused on livestock feeding equipment and systems to ensure the best possible pasture and feed utilization. Advantage Feeders concentrate all their efforts to extract the best possible results for their customers and the wider farming community. This strong results-based and customer-focused approach means that Advantage Feeders is always conducting field-trials to measure results and further develop their systems in order that their customers profit from the lessons learned. They truly want to assist farmers' businesses become as robust and profitable as possible – it's their driving passion.
All Advantage Feeders have been tested on the usual ruminants such as cattle, sheep, goats and deer. All with success and overwhelming positive feedback from our customers. For more information, please visit our website.
website in the USA
website in Australia
website in Canada
Total Page Visits: 2564 - Today Page Visits: 1