We will discuss food safety, animal well-being, and character development in youth.
Youth Goat Camp Schedule 2023: click here
It is an exciting year in 2023.
Dairy and Market Youth Goat Camps in 2023 will cover all things in Selection, Preparation, and Presentation in goats.
We have a great week planned for some family fun!
Sign Up Today: FORMS
Dairy Goat Instructor: Ruth Green
Market Goat Instructor: Evie Gates
Youth Goat Camp Team: Sherry Poeppe, Julie Vogel, Amy Hill, Carsyn Petree, Raylen Wilfong, Kamilah Dixson, Bailee Vogel, and Tatem Nichols.
Your child will receive a work book, a personalized t-shirt to wear the first day to camp, and a certificate of completion.
Other fun activities are the Obstacle Course, Scavenger Hunt, Goat Trivia Contest, Costume Contest, Poster Contest, Photography Contest, Puzzles and Games, along with lunch every day and a Nacho Bar the first night with the Goat Trivia Contest.
We have added so many great things to do over the three days, finishing with the final showmanship competition on Friday. Check the website for more info.
One of the fun aspects of these camps is that every entry paid is part of a donation to the Missouri State Fair Foundation, in their name. The Youth Goat Camp committee provides a banner to the MO state Fair Foundation listing the children that attend each camp. The banner is hung each year during the state fair. All funds are earmarked for the new goat pavilion, that these same children will continue to show in through their lifetime. There entry fee helps create a donation to the Missouri State Fair Foundation.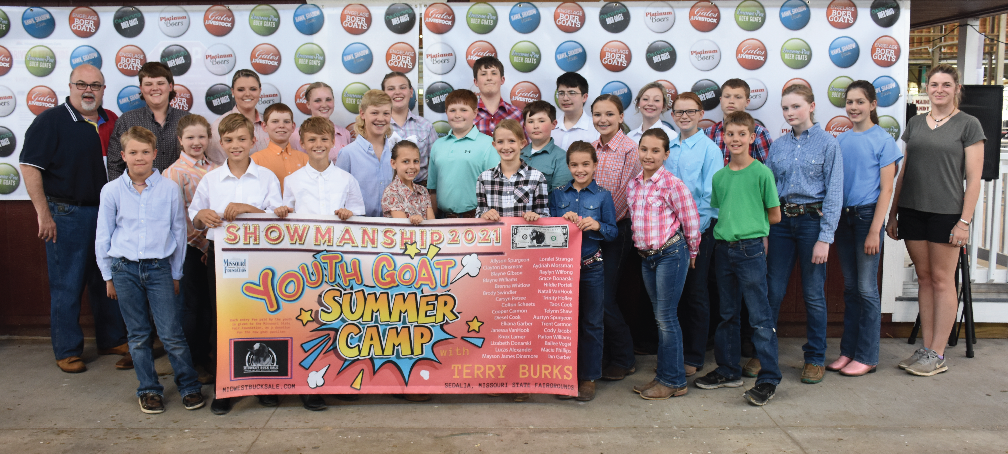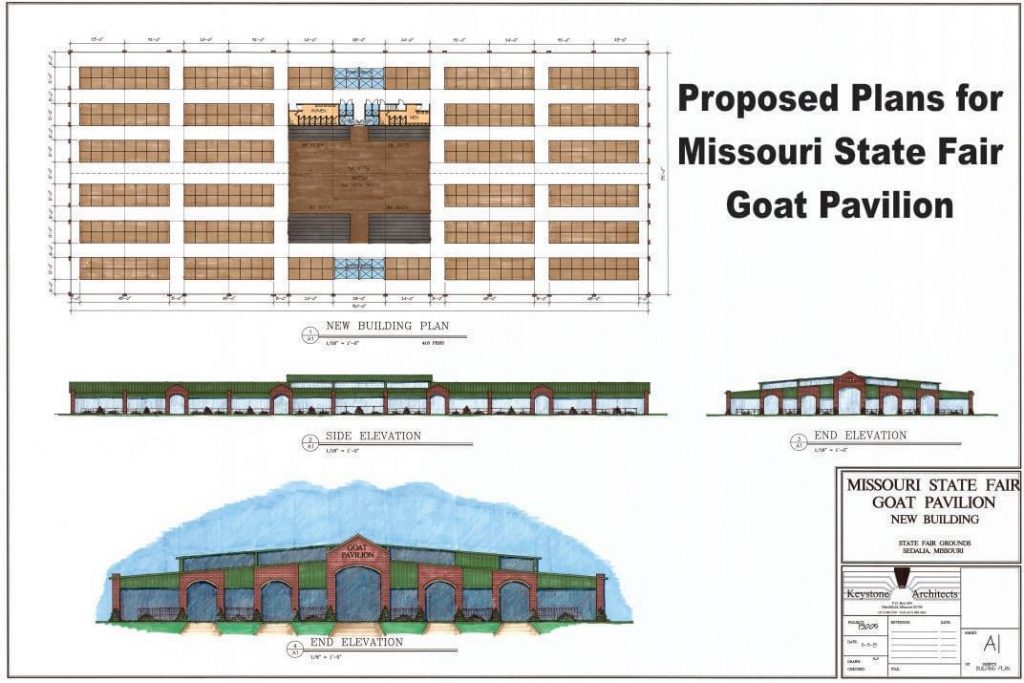 2023 is our fourth year for the Youth Goat Camps Thank you to the parents that attend, along with the kids that really look forward to attending each year. We are grateful for all the support the event has.
Entry fee is $135.00.
Limited to 30 children in each camp. 60 total youth may attend. The camp is filling up fast and we expect it to be full soon.
---
RULES: YOUTH GOAT CAMP:
ALL CAMPERS: Come and Have Fun! More Information
Rules for attendance: Children 8 years old to 18 years old, on the day of the camp are eligible to enter.
Check in before unloading.
Health papers even if in state resident.
Children check in 8:00 – 8:30 am at the Youth Goat Camp Red Canopy by the office.
We start at 9:00 am each morning
Lunch is noon to 1:00pm
Our intentions: Showmanship is a competition. Children in particular, can be easily distracted by parents, trying to coach their children over the rail, on the sidelines. When parents coach from the sidelines, their child is focused on them. If a parent remarks, or reaches over the rail, it is a distraction for their child and all the other children in the arena. Other parents will also have a reaction. At the camps, we avoid this situation by asking parents to be otherwise occupied when the children are in the arena practicing. Our committees work hard to provide a wonderful and memorable experience for your children, creating a environment that is inviting and will give them lasting connections with their peers. Opportunities for parents to work along side their children are during the hands on grooming/fitting segment, and selection, where the parents learn about selection with the children. Please check the website for more updates.
Parents are required to attend a short meeting with our USDA representative on the scrapie program updates and tracking of diseases, bio security, June 1, (tentatively) (kids are practicing in the arena)
We ask parents to attend other workshops and speakers during the practice sessions so the kids are focused on the instructors when they are in the arena.
Goats for Camp: Two head. Market Camp: Pick one example: Two Wethers, or Two Does, or One Wether and One Doe, please be sure the animal is in proportion to the child. They are a prop.
Dairy Camp: Pick one example: Children should bring what they have. Please try to have the goat in proportion to the child (small child=smaller goat, Taller, larger child=larger goat).
This does not include stock for other events, and these animals may be entered in other shows, evaluations, or the sale.
Enter through the forms online. Pay promptly to secure the spot.
Limited to thirty in each camp (total of 60 youth).
Children that win the Champion Showmanship belt buckle in their respective age group, may return the following year. The child must move up into the next division to participate again. This only applies to the overall Champion in their age group.
The Youth Goat Camp will provide professional photographs. YGC uses them for promotional ads and articles on the websites. Parents are welcome to use all photographs of their children, for personal use.
We want our Champions to come back and help others learn. Look for more details as we contact past winners.
For further suggestions and ideas, please email us at midwestbucksale@gmail.com
HOLD HARMLESS WHEN ENTERING THE MIDWEST BUCK SALE AND GOAT EXPO EVENTS
Each exhibitor, attendee, consignor, or vendor will be solely responsible for any consequential loss, injury or damage done to or occasioned by, or arising from any animal or article exhibited or for sale by him, and shall hold harmless Midwest Buck Sale, LLC, against any and all liability in regard thereto. Midwest Buck Sale, LLC will take reasonable care to insure the safety of exhibits and property, but the owner must take the risk of exhibiting. In no case will Midwest Buck Sale, LLC be responsible for any loss, damage or injury to property or persons while on the Missouri State fairgrounds, or at any other time or place, nor be liable or required to make any payment for damage, loss or injury. All that enter any event or sign up for anything related to the Midwest Buck Sale, agree: "I have read the contract and agree to abide by all Midwest Buck Sale rules and regulations as witnessed by entering the events May 31- June 3, 2023."
All Rights Reserved, Midwest Buck Sale, LLC 2018-2023
Total Page Visits: 1266 - Today Page Visits: 1