Presented by: Meat Goat Society
We are pleased to announce we having the Boer Goat Course. We will teach you how to evaluate the stock with the book of standards. Please join us for the 2022 Boer Goat Congress on June 4.
Each entrant will receive a Boer Goat Standard Hand Book.
If you are interested in learning about the Boer goat, and how to select the Boer goat, as they do in South Africa, then this is your chance. Enter Today. $35.00 Adults, $5.00 per child 12-18. (includes light dinner June 2).
There is a continued interest in the Boer goat in America, have the stock be productive and fit the standard as it is written in the books. We have Mat Goat Trax to teach more about weight gain and selection.
We look forward to providing another learning experience about selection.
The Meat Goat Society will provide all stock for the course. Each person will receive a selection Breeder Book. It includes the Boer Goat, Kalahari Red, and Savanna.
If you would like to have your stock evaluated, please enter them in the Boer Goat Congress.
2022 is the 4th year for the Midwest Buck Sale and we have many exciting things in the works.
2 days of training in selection of the Boer Goat. June 2 – 2:00 pm and June 3, 3:00 pm (subject to change).
There is a forward move by Boer goat breeders in America to form a community atmosphere in selecting Boer goat stock, and "Boer type" stock, as they do all around the world. The Meat Goat Society is providing a yearly learning opportunity for breeders so they may learn what to look for and how to improve the quality of their Boer goat stock, in all aspects of showing and production hardiness. This is not new to the USA. Boer Goat Courses were available for many years, early on. It has been some time, and it is a nice return to teach new breeders selection.
With original American breeders passing away and herds being dispersed, having a upgraded Boer goat Course for newer breeders is important so we may preserve the Boer goat in America. The Midwest Buck Sale Board is looking forward to seeing you there.
If you would like to have your stock evaluated,enter the Boer Goat Congress. We divide the stock by color coat, sex, age, and weight. National Titles, prizes, and Awards.
Boer Goat Course: June 2 & 3, 2022 after lunch
BOER GOAT COURSE
Arrival: Swine Pavilion – State Fairgrounds, Sedalia, Missouri.
Day 1: Introductions Boer Goat Course June 2, 2022
3:00 pm – Segment 1
break -5:30pm
6:00 pm – Segment 2 (subject to change)
The first 25 paid entries will receive a printed Book of Standards. Don't wait to enter.
Boer Goat Course Form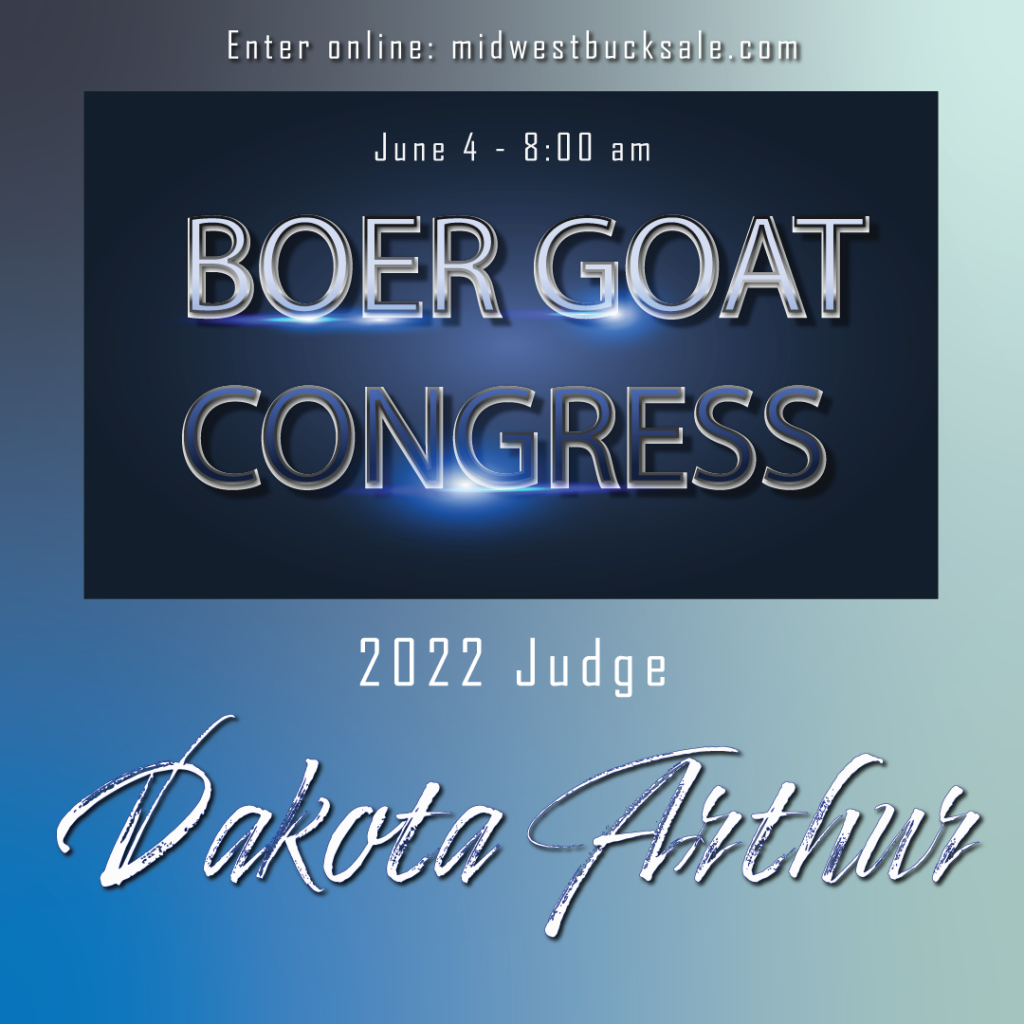 Each exhibitor, attendee, consignor, or vendor will be solely responsible for any consequential loss, injury or damage done to or occasioned by, or arising from any animal or article exhibited or for sale by him, and shall hold harmless Midwest Buck Sale, LLC, against any and all liability in regard thereto. Midwest Buck Sale, LLC will take reasonable care to insure the safety of exhibits and property, but the owner must take the risk of exhibiting. In no case will Midwest Buck Sale, LLC be responsible for any loss, damage or injury to property or persons while on the Missouri State fairgrounds, or at any other time or place, nor be liable or required to make any payment for damage, loss or injury. All that enter any event or sign up for anything related to the Midwest Buck Sale, agree: "I have read the contract and agree to abide by all Midwest Buck Sale rules and regulations as witnessed by entering the events June 1-4, 2022."
Midwest Buck Sale, LLC All rights Reserved. 2018-2022 Where the Meat Meets the Money
Total Page Visits: 4120 - Today Page Visits: 3