Value Added Day, June 4, 8:00am-3:00pm
Please Join Us on Saturday June 4, 8:00 am – 3:00 pm for a fun filled day, displaying and selling the products created by goat farmers and craftsman.
This Value Added Day is Sponsored by Lincoln University and put together by Dr. Homero Salinas. This will become an annual event, so let's build it an make it big! If you have any questions, please contact:
Contact Dr. Salinas
Phone: (573) 681-5169 | Fax: (573) 681-5881
We have a variety of activities going on Saturday, beginning with the Boer Goat Congress 2022 begins at 8:00 am. While that is going on professionals will be speaking about the breeds of goats. We have Dr. Phil Sponenberg speaking about the conservation of the breeds. The breeders sale begins at 4:00 pm. We expect a great crowd. We have also advertised locally and state wide.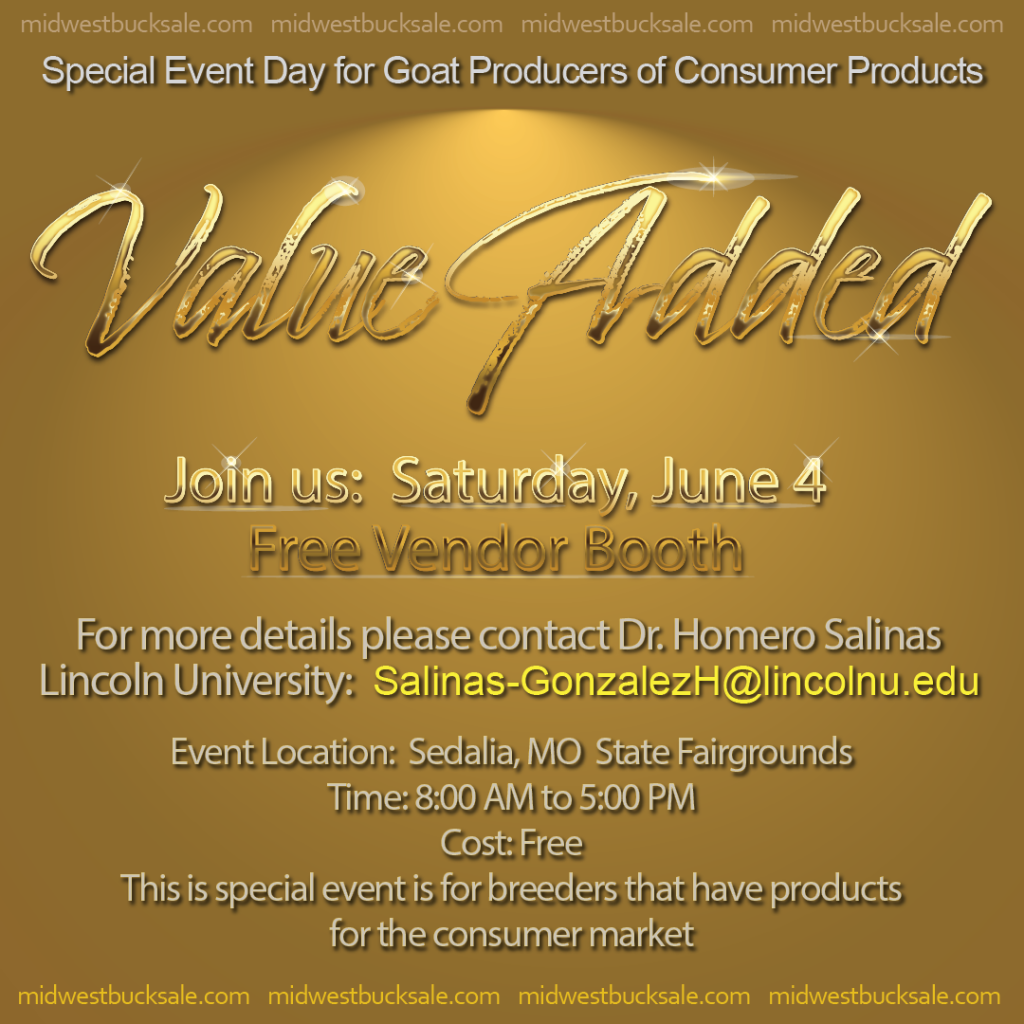 If you have a goat farm or produce products for the consumer, from your goats, we would like to invite you to join us and help promote your business and/or goat farm. Anyone from any state may participate. Dairy, Fiber, and Meat breeds are all welcome.
Goat Farmers Signed Up:
Maria Dietz (Goats Milk & Cheeses)
Colleen Meredith (Goat Milk Soaps & Candy)
Michelle Reynolds – A Tangled Mess Angoras & Crafts (Fiber Crafts)
Erin Link
QUESTIONS AND ANSWERS:
How do you sign up? CLICK HERE Fill out the form.
How much does it cost? It is free to attend. There is no cost for a vendor booth on Value Added Day.
How do I get a free vendor booth for June 4. Enter your information in the form link above.
Do I need to bring a table and chairs? No, we will have 8′ tables and folding chairs. Please bring a more comfortable chair if you desire. You may also bring any other tables and your set up, for your booth.
When do I arrive? If attending June 4th only, you may set up June 3 after 3:00 pm or June 4 prior to 7:30 am.
If attending all week, set up is May 31, after 4:00 pm or June 2 before 7:30 am.
If you would like to take part in the sampling on Friday evening, please let us know.
This is the gallery of the vendors in attendance for Value Added Day. If you join us, please include your logo and other important advertising information.
All Rights Reserved, Midwest Buck Sale, LLC 2018-2022
Total Page Visits: 164 - Today Page Visits: 3