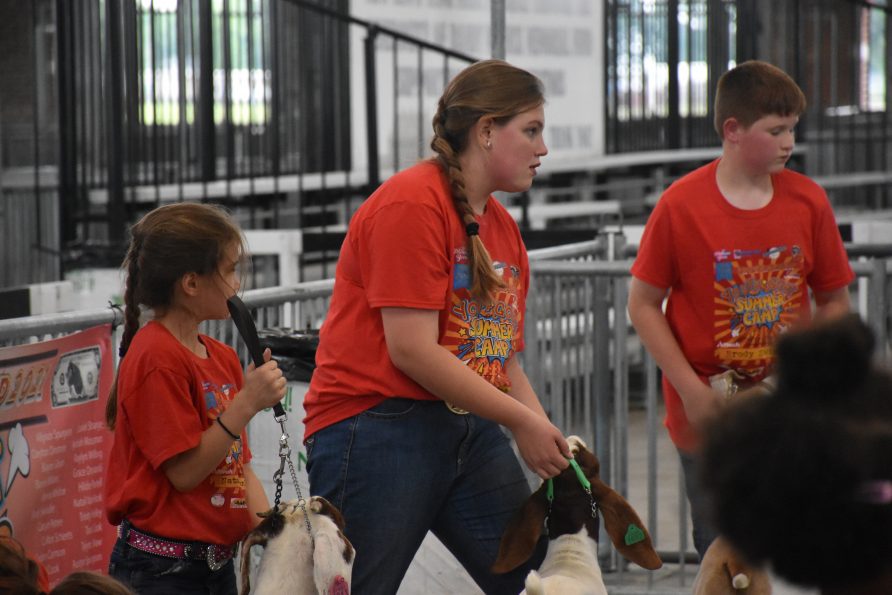 Returning for the Youth Goat Camp, Miss Bailee Vogal.
In 2021 a friend to the Youth Goat Camp, Ms. Brenda Larner, donated a solid red doe kid to be given to a camper that had talent, compassion, kindness, and the ability to work hard.
Miss Bailee Vogal was selected to receive the gracious and wonderful gift.
She will be returning with her doe to learn more about Showmanship in the market and breeding goat industry.
Here is her story:
Hi, my name is Bailee Vogel. I am 13 and I am from Saline County, Missouri. I am a member of ABGA and 4-H. My one dream in showing goats is to get in the top 5 in a national show someday. Going to Midwest Buck Meat Goat Camp with Terry Burks has changed my life in the goat showing world. I have learned several things over the last two years going and can't wait to go this year again. Also having my little brother old enough to come with me now.
During the camp last June, I really enjoyed the showmanship practice in the ring. It was hard work but so much fun to have the challenge of showing. After practicing and learning we had the showmanship championship contest, I did not win, but I will try even harder and hopefully achieve the goal of another buckle this coming June. To my surprise, at awards, Terry said that a woman named Brenda Perkins Larner was giving someone a red doe from her farm in Texas. I thought in my head it was not going to go to me, to my surprise he said my name. I was so happy and surprised I started to cry. Then we had to plan a trip to Texas. When we first met, Brown Sugar she was so pretty I was so happy. She had a great personality and fit right in with my other goats. Over last summer me and Brown Sugar went to several county fairs, and we had a lot of fun showing. Brown Sugar is a natural in the show ring she loves it as much as I do. We even placed overall reserve percentage doe at the Ozark empire fair in Springfield. We have decided to make the trip to Nationals this summer, I can't hardly wait.
Thank you so much, Terry, Brenda, and Midwest Buck for all that you have done for me and my family so far. I am also thankful for a goat camp close to home and all the kind
people that help make it happen. I can't wait to bring Brown Sugar back to camp
this year and hopefully when I get older help other young kids to get as excited
about goat showing as I am.
Bailee Vogal
Total Page Visits: 6248 - Today Page Visits: 3